About Saturna Island
Tucked away at the southern end of the Gulf Island chain Saturna Island is easily the least spoiled of the Gulf Islands. A remote and sparsely populated rural hideaway, with bountiful wildlife and tremendous natural beauty, Saturna Island features a variety of outdoor activities, including hiking, cycling, kayaking, swimming and fishing.
  Saturna was explored by Spanish sailors and named in 1791 after their naval schooner, the Santa Saturnina, one of the ships in        the Spanish expedition that discovered the Strait of Georgia.
  Tourism is important to the livelihood and economic well-being of the community. Visitors would be pleased to know there are now   7 campsites available in Narvaez Bay. The is a campground rthg at the ferry,  a variety of B&B  and cottage accommodations.   When you stay on Saturna, you are part of the island family!  Saturna is laid back and easy going but we also know how to have   fun! Listen to live music and kick up your heels or pop in your earbuds and fall asleep on the beach. There is as much or as little to   do as you wish. Watch the sun sink into the sky after hiking or biking up Mt. Warburton Pike or as the finish to a perfectly relaxing   day just sitting back with a beverage, watching the eagles soar and maybe even an orca swim by. It is up to you!
 Almost half of Saturna's stunning landscape of bays, valleys and high rock bluffs are protected within Gulf Islands National Park       Reserve. Officially established in 2003 the park is indeed something special to experience while you're on-island. The southern Gulf   Islands are one of the most ecologically important—and most at risk—natural areas in southern Canada. Many plant species are at their northern limit or are found nowhere else in Canada—like the magnificently gnarled Garry oaks and the red-barked arbutus trees. Tidal pools shimmer with colourful and extraordinary sea creatures, and a myriad of seabirds, orcas, porpoises, seals and sea lions thrive on the bounty of the surrounding ocean.
Exploring the national park reserve is best done at a leisurely pace, and in ways that leave little trace of your passing through. Try a picnic and short hike at Winter Cove. Enjoy a walk down to Narvaez Bay, or hike along Lyall Creek. Drive up to the top of Mount Warburton Pike to take in a panoramic horizon of ocean and islands laid out at your feet as falcons and eagles soar at eye-level. If you're travelling by boat or kayak, a stop at the stone house ruins at Taylor Point will stir echoes of an old quarry operation that once supplied the sandstone that graces some of Victoria's earliest grand edifices.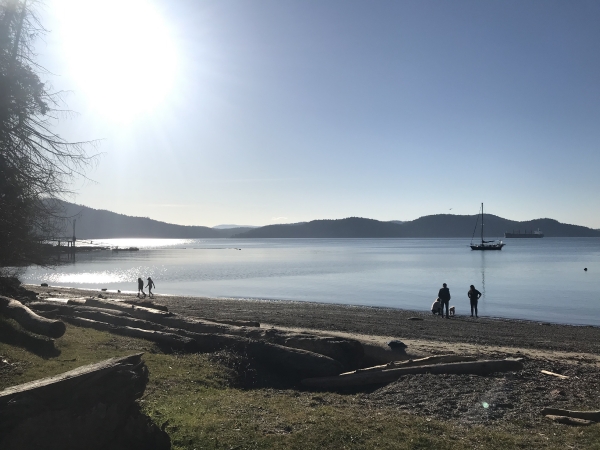 ---